Title: Naruto and Sasuke - destined to be together since the dawn of time (or at least the days of the Rikudou)
Author:
senior_witch
Fandom: Naruto
Pairing: Uzumaki Naruto and Uchiha Sasuke
Spoilers: The entire series up to chapter 480. (I wrote this before chapter 481 was released and decided not to rewrite it.)
Author's Note: This is the second manifesto for Uchiha Sasuke and Uzumaki Naruto from the series Naruto. I applied to be allowed to write a new essay because the old one is more than three years old and contains spoilers only as far as chapter 295, i.e. even before Sasuke's first appearance in the second season. In my essay I include later events and revelations, and I explore different aspects of the pairing. The old essay Thicker than Blood was written by
cephiedvariable and is still worth reading.


Destined to be together since the dawn of time
(or at least the days of the Rikudou)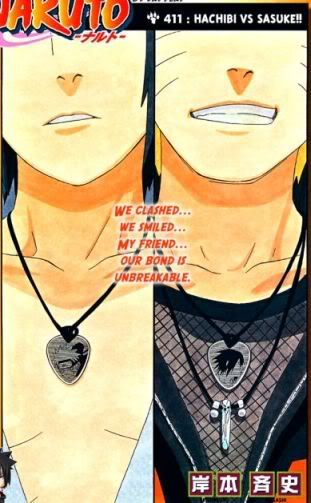 Summary

Uzumaki Naruto is the hero of the series, Uchiha Sasuke is his friend and rival. At the end of the first season, however, Sasuke leaves Konoha and eventually becomes an enemy not only of Konoha, but of the whole ninja world. Naruto keeps longing for Sasuke and believing in him, hoping that one day he will see him again and bring him back to Konoha.

Naruto x Sasuke allows for rivalslash, buddyslash and enemyslash and has become one of the most popular pairings of the series.

To avoid misunderstandings: In this essay I won't argue that Naruto x Sasuke is canon or ever will become canon. I don't think that a mainstream shounen series will feature a gay couple as heroes, and also, there have been strong indications that Naruto thinks homosexuality disgusting. What I want to argue is that in canon we can find a lot of elements that are typical for love stories but not sexual attraction – this is the one thing fanfiction writers have to add themselves. I want to argue that while the pairing is not canon, and never will be canon, it still makes sense.

The Characters

When we first meet him, Uzumaki Naruto, the hero of the series, is presented to us as a loud, annoying and unpopular child who engages in all kinds of nonsense. The intention behind this nonsense is that he wants to be recognized and acknowledged, both as a human being and as a capable shinobi. Being an orphan he is in need of attention, which is constantly denied to him. The grown-ups fear him because he is the kyuubi's jinchuuriki, while their children, who are supposed not to know, unconsciously adopt their parents' attitude. Naruto makes up for this by getting on people's nerves and by dreaming of becoming the strongest ninja of the village, so that people have to appoint him Hokage. When the series starts, however, his performance is below average, and he passes the academy exam as last of his class.

In the course of the first season he meets people who accept him, he learns to connect to them, and he makes huge progress as a ninja, mostly through hard work, but also by learning to make use of the demon fox's chakra within him. The jutsus he uses remain more powerful than sophisticated, as he relies more on his enormous amount of chakra than on any refined skills of using it; nonetheless his tactical skills are considerable, and he is certainly not the idiot he was considered to be when the story started. Most of all his unconventional moves have earned him the nickname Number One Surprise Ninja.

By the end of the first series he is well accepted by his fellow genin both as a reliable friend and as a strong shinobi. What's more important, however, is that he has also shown a virtue that's not a ninja skill but an expressions of his own values and his unique personality: his compassion for those who suffer and lack privilege (as Neji), a compassion that reaches beyond the borders of his country and extends even to people he is currently fighting (Gaara). He won't give in to them, however, not when he is protecting his friends.

Uchiha Sasuke starts out as the opposite of Naruto. He is best of their class, he is popular with the girls, and while Naruto longs for friends, he sees his new teammates merely as obstacles. He is confident that he is strong enough not to need them, most of all as he considers them too weak to be useful. He seems arrogant and too focused on strength and power, but as the story continues, we learn that the motive for his ambition is his desire to kill his brother Itachi in revenge for murdering their whole clan, letting only him, Sasuke, live.

An encounter with Itachi where he tries to fight him but is beaten up horribly gives him the impression that he does not get sufficient training in Konoha. He leaves to train with Orochimaru and gain power from him. Naruto tries to hinder him and fights him in the Valley of the End but he fails (mostly because he refuses to strike a deadly blow), and with this the long and onlasting separation of Sasuke and Naruto begins.

Naruto too leaves the village. He undergoes training with Jiraiya, and when he returns, he is no longer just a normal capable ninja, but already on the way of becoming extraordinarily strong. We learn that aside from the kyuubi's chakra he has an exceptional amount of chakra of his own, which not only gives him unusual strength in battle but also allows him to split up into a lot of kagebunshin in order to multiply his learning speed, and to undergo sennin training. From the ugly duckling he has developed not only into a duck or a goose that is accepted by everyone, but into the most beautiful of all water birds, a swan, and the most beautiful swan in the bargain. (Not in terms of beauty, however, but in terms of strength: The swan is not only a very beautiful but also a strong and fierce bird who will defend his chicks against curious human children.)

Also from a child who grew up without any friends he has turned into a person who does not only have a reasonable number of friends and gets along with most other people, but into a person who has the unique talent of making friends quickly with everyone, no matter where they are from. It is this skill that makes him the destined child who will bring peace to the ninja world, which at the moment is ruled by hatred, distrust and the desire for revenge.

Thirdly, we learn about his parentage or, to be exact, his father: The Fourth Hokage of Konoha, one of its greatest ninjas ever. Naruto has also descended in a direct line of teacher-pupil relationships from the First Hokage, and Madara senses the Senju's Will of Fire in him, meaning that he has descended from the younger son of the Rikudou himself at least spiritually, but maybe even biologically. It is not by chance or hard work that he has managed to overcome the adverities of his youth: "Being born in a duck yard does not matter, if only you are hatched from a swan's egg." (H.C.Andersen)

So he has not only managed to be seen as a human being and not as a monster, but he is high above ordinary people and will probably arrive at the level of the Rikudou, who according to Madara was definitely beyond human and even created the moon. Also, Naruto has begun to stand for a whole concept instead of just being a character: Love, Peace, forgiveness, and breaking the chain of hatred and revenge.

With all these expectations he remains refreshingly normal. He would not consider himself stronger or wiser than his teachers, and protecting his friends and his village is his most important motivation. From Jiraiya he inherited the desire for peace, a desire that coincides with his own wishes. More than once he has shown that he cares for people from other places just as much as for those from Konoha, and is able to connect to them.

On a political level he remains clueless about peace. He rather moves people by his sincerity and his idealism than that he convinces them with his arguments. Yet it is this idealism that makes him attractive both to the readers and to the other characters in the manga, and moves them to change their ways.

Sasuke, on the other hand, uses his hatred against Itachi as an incentive to become stronger after his departure from Konoha. Other motivations as protecting his friends (love) are no longer important to him. After his final fight against Itachi, which ended with Itachi's death, he learns that Itachi has murdered the clan on orders of the top echelon of the Leaf. This leads him to direct his hatred not only against the whole village of Konoha, but also against the whole world: He abandons his habit of not killing innocent people, but is ready to deliver Killerbee to Akatsuki, or kill Jay and the Samurai who guard the fortress in Iron Country.

So now Sasuke stands for a whole concept too: Hatred and revenge, just the opposite of what Naruto stands for. Madara gives this a historical/mythical dimension: According to him he is an avenger by nature as he has descended from the older son of the Rikudou and has inherited his hatred. He and Naruto are destined to fight against each other, just as the two sons of the Rikudou fought each other, and just as he himself fought the Shodai Hokage, Hashirama.

Growing a bond

When Sasuke is first introduced in chapter 3, we see him through Naruto's eyes: As his rival. Naruto hates him because he envies him, while Sasuke looks down on him and considers him a loser he cannot take seriously. Neither of them appreciates being put together in one team, and their accidental kiss is disgusting to both of them:




Soon however the situation changes: Sasuke defends Naruto against Sakura, who dismisses Naruto for being an orphan and speaks lightly of what it means to be without parents. A few chapters later he offers his food to him, so that they pass Kakashi's test on comradeship. During the Wave Country arc he begins to acknowledge Naruto as a fighter, accepting him as a comrade during their first fight (against Zabuza) and acknowledging his skill of coming up with unusual ideas during a dangerous situation. He asks Naruto about Sakura's advice when they learn to climb trees and practices with him:




The process culminates with Sasuke's offer to sacrifice his life for Naruto, even though dying would mean the end to his plans for revenge. Naruto is surprised by Sasuke's actions, and reluctantly he begins to accept him as a teammate. When Sasuke appears to have died for his sake, he awakens the chakra ofthe kyuubi for the first time.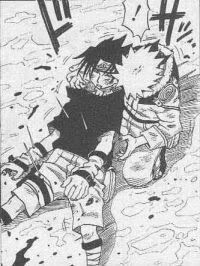 Their friendship continues to grow in spite of occasional drawbacks. They learn to fight for each other, and sometimes they even fight side by side. Sasuke recognizes Naruto's power, telling him that he is an opponent worth measuring his strength against, while Naruto, instead of only envying Sasuke is ready to acknowledge him openly when he cheers for his victory during the preliminaries to the third chuunin exam. He also shows genuine concern for Sasuke when he tells Kakashi to call off the fight against Gaara.

Another climax in their growing friendship is their fight against Gaara, with Sasuke's offer to sacrifice himself for Sakura and Naruto: Never again does he want to go through having his precious persons die before his eyes. Naruto realizes that he has finally found what he longed for, persons he loves and cares for and is ready to fight for.




One more time Sasuke sets out to rescue Naruto, namely in order to protect him against Itachi (and in order to avenge his clan). He fails however and breaks down, and afterwards, there's a rip in his and Naruto's friendship. The encounter with Itachi has reminded Sasuke of his revenge, and his quick defeat makes him think that he is still very weak. Discovering that the Chidori he's so proud of is inferior to Naruto's Rasengan makes him believe that he does not get sufficient training in Konoha, and he decides to leave, abandoning his friendship with Naruto.

I write "friendship", but in this essay I want to make a case that it's more than friendship. So what distinguishes the boys' friendship from an ordinary one and makes it more similar to a love relationship?

First, their friendship is not based on similarity and getting along well with each other. They don't discover that they have the same hobbies and enjoy playing and hanging out together. Instead they are quite opposite to each other, both in temperament and in character. They are fascinated by their differences, even though these differences make it difficult for them to get along.

Then there is of course their shared fate of being orphans which makes them curious of each other. Of Naruto we learn that he first thought that Sasuke was like him, and that he wanted to talk to him straight away.




Later he realized how different they were and chose him as his rival. In truth, however, he always aspired to be like him: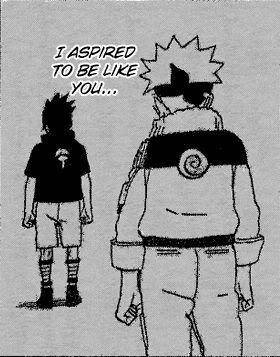 Sasuke never admits it, but he too has been touched by Naruto even during their early years in the academy. In a flashback during the Valley of the End we learn how a short time after the massacre Naruto finds Sasuke staring into the lake and being sad. Naruto smiles at him, trying to cheer him up and to initiate some contact. At first it seems that it does not work,




but then Sasuke reacts:




Here's another picture where we seesome tiny tear on Sasuke cheek: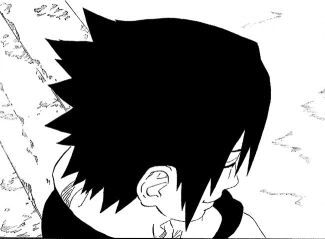 He cannot respond to Naruto in this scene, at least not in the way Naruto intends him to respond, by leaving the landing pier and talking to him, but he is touched, and he acknowledges Naruto's sufferings as an orphan. This makes him defend Naruto against Sakura in chapter 3, and share his food with Naruto in chapter 8. Even Orochimaru admits that Naruto has changed Sasuke's heart, which according to him is that of an avenger by nature.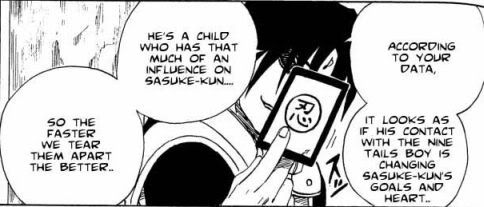 Deeply fascinating each other and changing each other's heart, while having difficulties to get along on an everyday level - to me it seems that their relationship goes far deeper than an ordinary friendship of boys of their age.

The second point that distinguishes their friendship from an ordinary friendship is Naruto's need to be recognized. The need is only on Naruto's side (their relationship is a bit one-sided), as Sasuke is quite confident that he is stronger than the other rookies. ( His confidence only breaks down when Naruto turns out to be more powerful.) Also, his sense of identity is rooted in the fact that he is an Uchiha.

Naruto, however, has a strong need to be recognized, as he has never known his parents and has never had any friends. Iruka is the first person who acknowledges him as a human being and not a monster, and Sasuke is the second.

Friends are important to every child: kids of their own age, people from outside the family whose friendship has to be won and kept alive. Children have to learn to behave in a way that other children want to be their friends. Friends are not necessary, however, to confirm that one is a human being, as this fact is normally not questioned. Only in fairy-tales people assume the form of beasts or monsters, and they are returned into human beings through the powerof love. Even non-human beings, as the classical water-woman, can gain a human soul through love.

Also, Sasuke defends Naruto against Sakura and offers his food to him before Naruto has done anything to deserve it. It's appropriate, as being recognized as a human being is not something you should have to earn. But it's also the fairy-tale hero's or heroine's ability to see beneath the surface and recognize the human being under the beast form.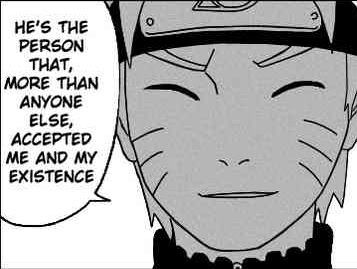 The third point that distinguishes their friendship from everyday friendships are moments of tenderness, mostly when one of them is wounded. I have collected a number of these pictures; here's the one's that's most touching to me in (after Sasuke's fight against Itachi in volume 17):




(I have been told that it is normal that boys behave like this, and that it's just about friendship, not about love. However, they only do it when no one is watching. Being female, I cannot say much about it. Also,their tenderness may simply be the way comrades in war care for each other when no female is around and they depend completely on each other. I can't say much about this either.)

The Valley of the End

Sasuke leaves Konoha, and Naruto follows him. In the Valley of the End he finally catches up and confronts him. He fights him in order to prevent him from leaving, while Sasuke fights back in order to kill him and gain the Mangekyou Sharingan. The fight is the emotional climax of the first season, but when I reread it, the most moving parts were the flashbacks: The long flashback about Sasuke's past and the murder of his family, and the smaller flashbacks of Naruto remembering the beginnings of his friendship with Sasuke.

Else what's striking is the raw emotion of both of them: Naruto's despair that he should lose his best friend,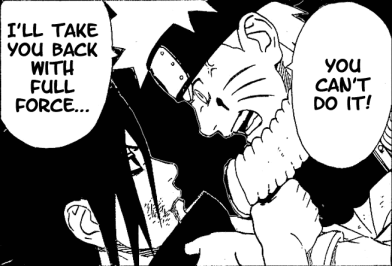 and Sasuke equal despair that Naruto does not understand how he feels about the loss of his family, claiming that for all his friendship Naruto knows nothing about him:




It's passion from both sides: Naruto's desire that Sasuke might stay, and Sasuke's despair that Naruto doesn't understand and doesn't let go. It might be a fight for love, if it were not for Sasuke seriously trying to kill Naruto.

Several of his strikes might have killed Naruto if it had not been for the kyuubi. In the end, however, Sasuke's and Naruto's Jutsus cancel out each other, and suddenly they appear as the little children they truly are beneath all their ninja powers. Children who care for each other: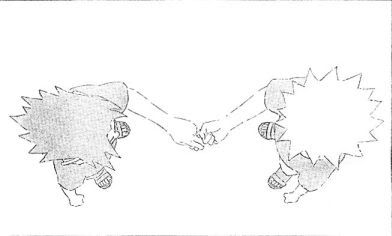 When Naruto is finally at his mercy Sasuke decides not to kill him: After a last moment of tenderness (some fans suspect that he kissed him when the camera was not looking) he departs.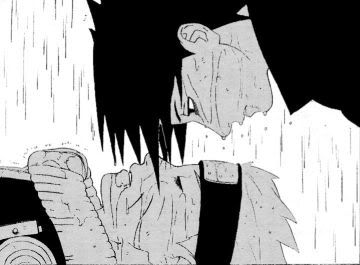 Holding out, and Refusing to Give Up

Sasuke leaves and Naruto stays behind, badly beaten up. Jiraiya advises him to give up on Sasuke and not try to save him again. Naruto gives in, but only for the moment, that is, for the following three years that he will spend training with Jiraiya. He insists that Sasuke is still his friend, in spite of the fact that he has almost killed him, and that he will save him from being turned into Orochimaru's new container.

He keeps his promise: He never forgets Sasuke, and he sets out again and again to rescue him, even though he never is successful. His bond to him is no longer rooted in the experience of being with Sasuke and having fun with him, but only in his memories. It's not correct, however, to say that Naruto has lost touch with reality, as Naruto's memories are very real. Still there is the problem that Naruto has little idea of how Sasuke has changed during the years, and of what is moving him now, so that Naruto's affection is more and more for a memory than for the real person Sasuke has become, a person Naruto hardly knows – if it were not for that core of goodness Naruto remembers well.

The people around him tell him off for clinging to Sasuke. Jiraiya is only the first; later Sai questions Naruto's and Sakura's ongoing attachment to Sasuke. Itachi talks to Naruto just before he meets Sasuke to invite him for their final fight. He intimates that Naruto might have to kill Sasuke in order to protect Konoha, but Naruto insists that he will stop Sasuke without killing him

When Itachi accuses him of being childish, living in a dream world and not knowing that sometimes you have to make tough choices, Naruto informs him that he has been told before that he was a fool, and that he has already decided not to be smart.




Yet for all his optimism he remains concerned about Sasuke and wonders what he's doing.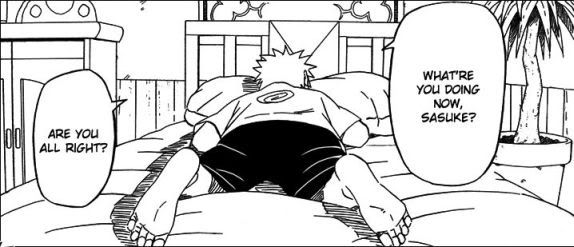 When news reach Konoha that Sasuke has abducted, maybe even killed Killerbee and that the Cloud is after him, the other rookies decide to take him out by themselves to avoid a conflict between the Cloud and the Leaf. Sakura travels to Naruto to make him give up on Sasuke, even offering herself as a lover to him, but again Naruto refuses: He will stay true to Sasuke, even when Sakura denies her love.

While he's waiting, he is getting more and more irritable. He fights against Orochimaru and sprouts four tails when Orochimaru claims Sasuke as his:




(Okay, I admit that for Hinata he sprouted eight tails.)

Also, he reacts quite fiercly when Sai insults Sasuke. The weirdest moment however is when Naruto admits that Sasuke looks good.




Holding out for someone for years, not giving up on someone, no matter how much he hurts you: In real life we would call it codependency, and Jiraiya's words to Naruto would certainly make sense. It rarely happens that people fall like this for friends, but it does happen that people get irrational and unrealistic as this when they fall in love.

Only that with Naruto it's different. His belief in Sasuke's essential goodness is rooted in his experiences with him, which are real. Also, this is not a realistic story but a fairy-tale, and Naruto may be compared to a fairy-tale hero or heroine who holds out and stays true even when everyone says that they should abandon their true love, the one they found during their magic adventures, and make a more reasonable choice.

The Cloud Ninja's message that Sasuke has abducted Killerbee make him doubt Sasuke for the first time. It's only for a short time, however, as Madara's tale restores his faith in Sasuke. Having gone through the experience of losing a close person (Jiraiya) Naruto can now understand Sasuke's pain,




and with Madara's information he also understands that Sasuke's refusal to return to Konoha is ultimately motivated by his love for his family. He won't listen to all the people who tell him to give up on him.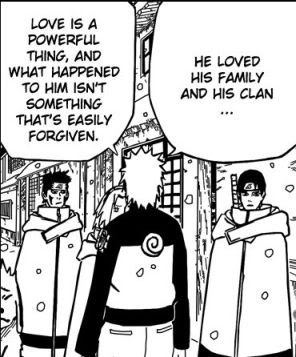 So much for Naruto. Now what does Sasuke still think of him?

When Naruto and his companions meet Sasuke in Orochimaru's lair, Sai confronts Sasuke, telling him of the bond he shares with Naruto, and how he should know of its importance. Sasuke confirms that he knows, but he also states that he had to break the bond as it kept him from focusing on his revenge and ultimately weakened him. Naruto feels hurt and provokes Sasuke, asking him why he did not kill him back in the Valley of the End. Sasuke answers that he only spared him on a whim and then he weirdly embraces Naruto.




He threatens that this time he will kill Naruto, but Naruto remains curiously unimpressed and does not try to avoid the blow, or defend himself against Sasuke. He just tells him that he cannot become Hokage without being able to save his friend. He trusts that Sasuke won't kill him.

It remains their only encounter in the second season, except for a very short one that is not even between Sasuke and Naruto himself, but only between Sasuke and one of Naruto's kagebunshin. It is easily dispersed by Sasuke. "Naruto...He won't give up", Sasuke says, half annoyed, half in acknowledgement.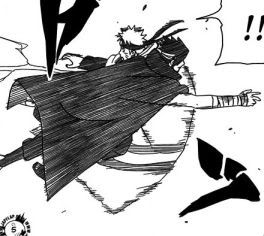 Yet even though they don't meet and even though Sasuke keeps avoiding Naruto and refuses to return to Konoha, Sasuke occasionally thinks of him. The most poignant moment is when in Wave Country he looks at the bridge named after his friend, suddenly looking all dreamy and serene.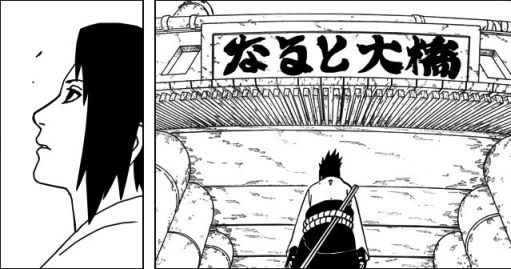 A more dramatic situation occurs during his and his team's fight against Killerbee, when his new companions offer to sacrifice themselves for him. They make him think of the bond he shared with his former teammates of Team Seven. It appears that still he thinks fondly of them (though very rarely), even though he has decided that for himself his personal goals are more important than their friendship.




There is also the matter that Naruto is targeted by Akatsuki. It's difficult to tell what Sasuke thinks of the fact that Naruto has not yet been captured – he may be glad about it, but it is also possible that he is just doubting Akatsuki's offer of the bijuus when they haven't yet caught the kyuubi.




And then there's Sasuke's statement that he does not care whether Naruto has become stronger than him.




It sounds as if he no longer cares about Naruto – but it may also simply mean that he has outgrown their childish rivalry. Beating Naruto is no longer his aim after hehas managed to kill Itachi. He should be concerned about Naruto's strength if he is aiming to destroy Konoha as a whole, but at this moment, his target is Danzou.

Sasuke's statement strangely mirrors Naruto's answer to Yamato who explains to him the different power relationships between the different chakra natures: Wind beats lightning, but fire beats wind. Yamato thinks of how Naruto might beat Sasuke, but Naruto has outgrown their rivalry too: He thinks about how he might help Sasuke's katon grow stronger.




So at the present moment of the manga Naruto still dreams of Sasuke and hopes to renew their bond, even though everyone else tells him that this is irrational and that he should get accustomed to the idea that it might be necessary to kill Sasuke. He's on the point of breakdown now, but he still refuses to give up on his friend.

Sasuke on his side is not much thinking of Naruto. Still his occasional thoughts of him show that he has not forgotten him completely and still cares. Thin as it is, of all his bonds to Konoha his bond to Naruto is the strongest

Heirs of the Rikudou

So in some way the story of the bond between Sasuke and Naruto, as far as we know it until now, rather resembles a love story than the story of a friendship, with Naruto courting Sasuke and trying to win his recognition, and later dreaming of retrieving him and insisting on their bond.

The story Madara tells to Naruto gives their bond an extra dimension: It's not just personal, but it's rooted in the history of their clans. Both their clans have descended from the Rikudou himself, and they've been fighting each other since his two sons broke up with each other.




Madara and Hashirama have been the next outstanding figures in the two lines descending from the Rikudou, fighting each other, but also Madara admiring Hashirama:




The next two in this line are Sasuke and Naruto, bound to each other in a weird mixture of love and hatred.




Madara makes it appear as if they are fated to fight, as Naruto and Senju stand for love and forgiveness, while Sasuke and Uchiha stand for the quest for power, hatred and revenge. He presents us a manichean world view, with the powers of good and evil fighting each other in every new generation. Sasuke and Naruto are no longer persons, but personifications of these powers.

Yet Madara's tale is not the whole truth. Senju and Uchiha were able to achieve a truce and collaborate to found Konoha, and for several decades they lived peacefully side by side. Konoha is made up by both clans. Only with the kyuubi's attack and the ghettoization and murder of the Uchiha clan the old antagonism was revived.

Also, on a more mystical level, both clans are descended from the Rikudou, and each of the Rikudou's sons has inherited part of his powers and personality. Only together Sasuke and Naruto will be able to bring him back to life (well, rather his ideas). Fighting will continue the chain of hatred begun by the two brothers, love will end it and finally break the curse on the Uchiha clan that Itachi wanted to be freed from. With Sasuke's and Naruto's reunion the Ninja World will be again whole and complete.

Now I use the word love the same way Madara uses it when he talks of the younger brother's idea that love is the key to peace. Love is not only sexual or romantic love. When the story ends, Sasuke's and Naruto's bond will be love and not "just friendship". It will be the kind of love that transcends a mere sexual relationship. We, as fangirls however, are free to imagine it as including sex.

There's a well-known story by Plato (you can find it in the Symposion) that tells how humans used to be spherical, but the Gods decided to divide them into halves. People were desperate then and starved themselves to death because in their longing to find their other half they forgot to eat, and so the Gods had pity then and gave them genitals, and a new way to procreate, and from this time, people fall in love and have sex. (What's less well-known btw is that the story is not about men and women complementing each other. Instead it praises homosexual love.)

What people really long for, however, is not just some other person to fall in love and have sex with, but their original second half:

And when one of them meets with his other half, the actual half of himself, whether he be a lover of youth or a lover of another sort, the pair are lost in an amazement of love and friendship and intimacy, and would not be out of the other's sight, as I may say, even for a moment: these are the people who pass their whole lives together; yet they could not explain what they desire of one another.
The text goes on to explain that their desire for each other has little to do with sex, but is in truth about being one and whole again.

Naruto's outburst of emotion in the Valley of the End, his continued search for Sasuke, his refusal to give up on him in all its seeming irrationality: What it seems most to me is a desire to be whole again by being reunited with Sasuke.

Plato does not think very highly of physical love. People who don't despise it, however, know that there is a mystical dimension to it: it can be about becoming whole.

Being divided into two halves is a concept that we find in the manga itself, namely with the kyuubi, the creature that can be controlled both by Senju and Uchiha (which is why Danzou, in a carricature and perversion of the union of the clans has transplanted both the Uchiha's eyes and the Senju's DNA into his arm – don't blame me for Kishimoto's lack of biological knowledge.) It's been split in half by Minato, Naruto's father, in an attempt to make it safe for Naruto by sealing only the light half into him. But the light half is dangerous enough as it is, making me wonder if the complete kyuubi would not be more content and less dangerous.

The dark half has to be found so that the whole kyuubi can be dealt with by Sasuke and Naruto when they are finally reunited, and reunited they will defeat the villains of the story and restore the ideas of the Rikudou. It does not matter much whether their bond will be a mere friendship or a romantic relationship – it will be love on a different level.

Fandom

Back to some more mundane matters, as providing information for new fans who want to get more involved.


sasuxnaru is the biggest community at LJ that is devoted at the pairing. Other communities may be found at the profile page of sasuxnaru or at the list of communities of fanlore.

As for fanfic recommendations, the fanfic that turned me into a dedicated SasuNaru-fangirl is Sound of Dreams by
zrina. It's canonverse, with a complicated plot and some of the best smut scenes I've ever read.

I don't read much fanfiction these days as I have little time, but I want to recommend some AU fics that I like:

Blackmail and Betrayal by
zrina
Talk to Me by
rasengan22
Purple by
kodak_85 (warning! It's a rape fanfic and shows rape as a horrible as it is)
The Bends by
lifesacloud

Friends and acquaintances have recommended some other fanfics to me, to be listed here. If you have more, I will add them to the list.

When the House falls down by
sowell
Feels like Walking on Water by Hina88
The Great Debate by myfreudianslip
The Listening Sky by
fahye_fic
The Boy in the Photograph by
underhandycat0
Skeletons in the Closet by lazuli
When the Cat's Away by vee-sempai
Conviction by questofdreams
Aftermathematics by
ronsard

Important Archives:

Bea's Recs, formerly Beachan's temple of Recs
Sasuke x Naruto x Sasuke reclist compiled by Adi/Sylverwyrm and
questofdreams

Also, there's a site SasuNaruAwards that's still looking for nominations.