Burnt Bridges Over Still Waters - Seishirou/Subaru (Tokyo Babylon, X/1999, & Tsubasa)
Title:
Burnt Bridges Over Still Waters
Author:
Kyuu (
chrysa
)
Email:
sumeragi[@]gmail.com
Fandom:
Tokyo Babylon, X (X/1999), and Tsubasa Reservoir Chronicle
Pairing:
Sakurazuka Seishirou/Sumeragi Subaru
Spoilers:
All of Tokyo Babylon, all of X that's published, some of Tsubasa (volume 7 & latest chapters)
Notes:
This essay uses manga references.
First of all, I would like to apologize for being horribly late; I procrastinated and ended up super busy, with lots at school and two birthday parties, which prevented me from finishing earlier. I must also apologize for going over the word limit by more than 500 words, and that it actually grew longer as I edited, but to shorten its length would detract from the meaning.
While I recognize I am not the most qualified person to write this essay, for I can think of quite a few people off the top of my head much better suited, I would like to say I tried my best and managed to learn a lot about my ship from this. I enjoyed writing this essay, and I very much hope you enjoy reading it as well.
t h e &nbsp c i t y &nbsp t h a t &nbsp h a d &nbsp f o r s a k e n &nbsp g o d
tokyo babylon, 1990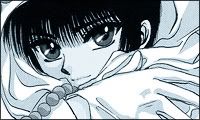 Tokyo, 1990, a city of twelve million people. A restless city full of greed, hatred, anguish, and sorrow. Welcome to modern-day Babylon.
This is the world that Clamp has created for Sumeragi Subaru, a powerful sixteen-year-old onmyouji (yin-yang magician) who also happens to be the head of one of the oldest and most respected spiritual clans in Japan. Though he's determined to save Tokyo, he can't even save himself from Sakurazuka Seishirou, a gentle veterinarian-in-disguise who is none other than his mortal enemy.
For a year, Subaru lives happily with his sister and Seishirou in his "perfect" world, but in a series of tragedies, he loses everything important to him and swears revenge upon Seishirou, the man who took it all away from him.
They don't meet again for another nine years.
t h e &nbsp c i t y &nbsp t h a t &nbsp g o d &nbsp h a d &nbsp f o r s a k e n
X, 1999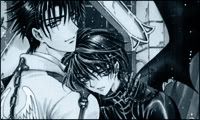 Long ago, it had been foreordained by many holy scriptures that in the year 1999, seven seals and seven angels would gather to fight for the fate of the earth. Bid by his mother's final words as she was engulfed by flames, the messiah Kamui returns to Tokyo to fulfill the prophecy. He is the one with choice, the one who determines who or what shall be saved. It is a heavy burden he does not want.
Despite his attempts avoid destiny, those who are involved soon find their way to Kamui, and he is forced to make a decision—to protect his friends and save humanity, or to destroy it and save the earth. His choice ultimately counteracts his purpose; his childhood sweetheart is killed before his very eyes, and his best friend thrown into a fate of being his "Twin Star".
Plunging into the depth of his own heart to cope with his grief, Kamui is saved from his personal hell by Subaru, one of the seven seals. On the other side, the seven angels, is Seishirou. They are destined to fight, to kill each other. This apocalyptic scene is the setting for the second act of the star-crossed lovers' story.
i f &nbsp l o o k s &nbsp c o u l d &nbsp k i l l
sakurazuka seishirou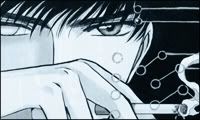 A man of many faces, Sakurazuka Seishirou is refined, charming, and every bit as deadly as he is handsome. He tells lies as easily, as if they were jokes, and some of those lies might just be lies themselves. His many personas are entangled within each other, his motives never revealed until a pivotal moment, always keeping you guessing at his thoughts.
As elusive and enigmatic as he is, Seishirou manages to stay a focal point of the plot, driving it forward even long after he is gone. Though sometimes outright cruel, Seishirou is the type of antagonist you can easily hate, but few finding themselves who actually do. He is not someone you love to hate, just love.
Seishirou is an emotionless character, shifting with ease from "kind" to cruel. The whole point of the Bet was a game for him to see if someone who feels deeply, like Subaru, could teach him to feel as well, as Seishirou was trained to perceive humans like objects, making him the perfect killer. However, at the end of Tokyo Babylon, it seemed as if Subaru had failed, as Seishirou claimed that breaking his arm was just like breaking a glass cup—it had no meaning to him. Only 16 volumes of X later do we get any evidence otherwise.
While Seishirou's past is mostly dark to us, we get one glimpse of it, a very vital one at that: his inheritance ritual. Though the Sakurazukamori is supposed to be a clan of assassins, no more than one member of it lives at a time, each killing his predecessor. At age fifteen, Seishirou killed his mother Setsuka and claimed the title of Sakurazukamori. Before she died, Setsuka explained to him what about beautiful thing it was to be killed by the person you loved most and how happy she was to have her death by his hand. At the time, he scoffed at the concept of falling in love—having any sort of emotion—and being killed. However, it would, in the end, be his downfall.
r u i n &nbsp o f &nbsp a n &nbsp a n g e l
sumeragi subaru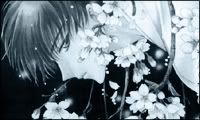 The only description I think that can accurately portray Subaru would be "almost perfect". Almost, but not quite, and that's what makes his fall from grace tragic.
Subaru of Tokyo Babylon is the type of character classically labeled as a Christ-figure in literature. A bleeding-heart sympathist, Subaru is kind, giving, and self-sacrificing, so much, in fact, that he puts the welfare of others before his own health and happiness, even letting go his dream of being an animal caretaker because he knew his onmyoudo skills (yin-yang magic) were needed more. He is also extremely shy and very polite, most likely having to do with the fact his grandmother raised him rather strictly and traditionally for the purpose of inheriting the Sumeragi household.
Subaru remembers everyone he meets, giving them a little piece of his heart, loving them all. And every day he lives in such a manner, Subaru stretches himself out a little thinner. But to love all is to love none, and the person who could make Subaru
truly
love them had the power to make or break him. And Sakurazuka Seishirou chose to break him.
Betrayed and left alone in the world, Subaru's changes drastically personality in the same way his world had turned upside down. Where he had been caring and kind before, he only thought of himself—where he was warm before, he is now cold, a tragic, fallen hero.
As different as he becomes, Seishirou made the observation that Subaru was still a kind boy. But what proof is there against that? Though the Subaru of X is a merely shadow of his brilliant self in Tokyo Babylon, a shadow is still an image of the original. Despite claiming not to want to be involved, Subaru still saved Kamui, he still fought Fuuma, he still
cared
. And Seishirou is usually perceptive about human qualities.
But it no longer matters what Subaru was because, as Seishirou died in Subaru's arms, the last part of Subaru died as well, the shadow, leaving nothing more than an empty shell of someone who used to be an angel.
t r a g e d y &nbsp i n &nbsp t w o &nbsp m o v e m e n t s
the lovers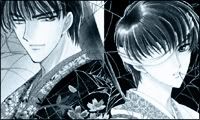 While many ships struggle with not having enough canon evidence or subtext, the problem with Seishirou/Subaru is that there is too
much
to sort out. It's hard to grasp and digest it all, especially since much of it is very indirect. But really, what better way than to start at the very beginning?
In 1983, while visiting Tokyo (nine years prior to the start of Tokyo Babylon), Subaru accidentally stumbled upon a murder scene—a mysterious young man sitting in a sakura tree, holding the corpse of a little girl. Shocked, he immediately fainted, and when he came to, had forgotten about the corpse, apologized to the man, and commented on the beauty of sakura trees. The young man—Sakurazuka Seishirou, the Sakurazukamori—smiled and explained to him that people were buried under them, and it was their blood that made the blossoms pink. Tears forming in his eyes, Subaru then asked if the people under the trees were in pain. Intrigued by the boy's power and innocence, Seishirou made a bet.
Though they were strangers at the time, this incident offers a clear portrayal of the dynamic between the two: Seishirou is manipulative, and Subaru lets himself be hurt by the manipulation. Only intrigued by the boy, Seishirou really had no idea what he was getting himself into.
When someone witnesses a murder by the hand of the Sakurazukamori, it was practice of the clan to kill that person as well. Seishirou broke his clan's laws when he spared Subaru's life. There are many interpretations to why he did it, but I find this quote from chapter 5 of Kouri's
Second Chances
the most fitting:
To escape love, all he really had to do was walk away.

Yet he did not. He knelt, and he talked, and he escaped by making
a Bet with a child over a question he already knew the answer to.

He simply chose to escape the answer rather than the question.
Seishirou could've easily killed Subaru right there, before Subaru's power could develop any more and become a real threat to him. Yet he spared the boy, erased Subaru's memory, branded his hands with inverted pentacles, and arranged the Bet, a bet to see if the boy could make Seishirou feel anything for him. Seishirou had made his own fate.
Fast-forward seven years. After an accident in the subway, Subaru once again meets Sakurazuka Seishirou, a gentle veterinarian who seems only intent on wooing him. The man teases him mercilessly, insists on dates, flirts like there's no tomorrow, but Subaru can't help but slowly fall in love with him. Little does he know that the sweet vet is the same ruthless killer whose only real goal is to complete the Bet he made under the sakura tree.
As much as I would love to go over every piece of Tokyo Babylon and the year of the Bet in detail, they, for the most part, are nothing more than a jumble of sweet lies from Seishirou to Subaru. And though there's a lot of adorable subtext and flirting, such as Seishirou asking Subaru if he thought the older man was sexy, the actual evidence is harder to pick out.
The evidence starts around chapter 8, drawing towards the end of the Bet. Seishirou's facade is slipping more and more because he is under the impression that Subaru has already lost, but continues to play the game anyway for the sake of fulfilling it anyway. But in a dramatic moment in which an insane and desperate mother attacks Subaru, Seishirou steps in front of him and is stabbed in the eye. The chapter ends with Subaru desperately banging on the ER door, screaming Seishirou's name.
As noble as the act seems, it was only part of the agreement in the Bet for Seishirou to protect Subaru for that year. However, I believe that incident serves as a pivotal turning point in the Bet. Not so much that Seishirou loved Subaru, since he did it out of obligation, but it was the revelation of something bigger and much more important for Subaru that probably saved him from the intended outcome of the Bet.
There is no exact moment that can be proven that Subaru fell in love with Seishirou; it was something that gradually happened over the course of the series and even before. However, the precise moment he recognized those feelings was at the end of volume 6, chapter 10. After conversing with a man who gives him insight on the situation, Subaru is finally able to understand why Seishirou losing his eye and his fear the other man would hate him affected him so much. Subaru could admit to himself he was in love with Seishirou. Not just friendship-love or family-love but love-love. Whether this remains true through the nine years afterward and in X is debatable (and will be addressed later), but Subaru's feelings for Seishirou are, at least one point in time, canon.
If anything, the fact that Subaru did not consciously acknowledge he was in love with Seishirou was what worked most against him during the duration of the Bet. To love is to be loved, and if Subaru doesn't love Seishirou, there is no way that Seishirou could love Subaru. However, the moment of discovery about his feelings was too late. As soon as he walks into Seishirou's hospital room, ready to confess, he is greeted by the Sakurazukamori and the scene of the Bet playing in front of him. Seishirou had already decided he lost.
Shocked into a nearly paralyzed state, Subaru is unable to defend himself as Seishirou breaks his arm, commenting that it was just like breaking a glass cup to him, kicks him, binds him to the Sakura, and prepares to kill him... only stopped Subaru's grandmother before he could finish.
At this point, though it seems evident that Subaru had lost the Bet by the way Seishirou treated him, there are quite a pieces of evidence seemingly contradictory to it as well. First of all, Seishirou claims to have not killed Subaru because his grandmother intervened. However, Seishirou is notably much stronger than Subaru's grandmother and could've easily stopped her from doing so, or even drag Subaru back into the illusion. Yet he chose not to. Also, the Bet was worded as "make him feel anything," not "make him love". Clamp has this unique way of playing with words that makes you just want to cry because they're specific enough to mean what you think they mean ("special person", for example) but not specific enough that you can say it's precisely that. A lot of fanfiction writers have fun with this wording of the Bet; Seishirou could've felt something for Subaru other than love or affection.
But the most condemning piece of evidence, however, is that he chose not to kill Subaru. Though Seishirou is obviously a cruel and deceitful man, the fact that he keeps his promises is heavily attributed to him. He stayed with Subaru for a year, like he said he would, and protected the boy, even losing his eye, all to make sure he kept to the Bet. Despite his lack of morales, Seishirou seems to have an eccentric code of honor he always keeps to. So what reason would he have not to keep the last part of the Bet as well? Even, say, if he could not stop Subaru's grandmother from destroying the illusion, he well could've tracked Subaru down and killed him another time, especially since Subaru's marked hands would make him extremely easy to find.
Seishirou is a deceitful man. He lied to Subaru for a year about who he truly was. What would he him from lying to him about the result of the Bet as well? In any case, nothing can be proved about Seishirou through Tokyo Babylon alone.
After Seishirou breaks his heart (and arm), Subaru traps himself in his "inner self" to save himself from the pain. Devastated, Hokuto, Subaru's older sister, blames herself for letting this happen to Subaru, and, in a desperate attempt to save him, she casts a spell of protection and offers her life to the Sakurazukamori, at once shattering Subaru's only two pillars of support. Upon awakening, Subaru swears to kill the man who stole everything from him. He picks up smoking, wears only drab clothing, no longer smiles... completely changes from who he used to be because of that man. There is nothing more between them for another nine years.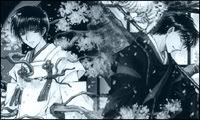 Though Seishirou and Subaru only physically meet twice in X, the story itself contains more evidence of their relationship than in all of Tokyo Babylon. The first time they see each other again after the former's destruction of the Nakano Sun Plaza. Seishirou is trying to light a cigarette as Subaru lands in ground zero, and Subaru eventually does for him. Though the fight (and Seishirou's invasion of Subaru's personal space) is quite interesting, it doesn't provide much insight since it's only their first appearance.
Seishirou, during the whole exchange, still treats Subaru like he's 16, playing the personality of the amicable vet though he knows Subaru knows better. He calls Subaru "cute" and considers their battle mere "play." He thinks of Subaru as toy, ignoring the other's attempt to be serious. He has changed little from the last time they met.
Subaru, on the other hand, is quite different. He claims to no longer care about the fate of the world, only to fulfill his Wish. He also refuses to tell what his Wish when Seishirou asks him if it is for his death. It is likely that it is such, considering the end of Tokyo Babylon, but it is also possible his wish had changed over the course of nine years. One sensual look from Seishirou, however, stops him dead, and allows for the older man to escape.
Because of their limited interaction, most of notable the evidence is present through their interaction with other characters. In order to save Kamui, Subaru had to enter into his "heart," the same place he was before, and coax him out of it. To do so, he had to tell Kamui his story, about his Wish and how it might make many people sad, and his reason for living. He cited Seishirou as someone he "loved" and was still someone important to Subaru, despite everything.
The next important passage is volume 11's end, Subaru's character profile. Subaru receives a phone call from his grandmother about a job as well as some words about his looking for the Sakurazukamori. He goes to deal with the girl who is obsessed with her dead fiancé's spirit, and the girl's mother, who is too selfish to let her daughter be happy. Each character profile is supposedly revealing about an important aspect of a character of X, most of them a little backstory, yet this almost random piece perfectly captures Subaru's situation and personality—he is obsessed with Seishirou; he cannot move on. Subaru is the type of person who painstakingly holds on to the past, forever condemning himself with it. And despite Seishirou's betrayal, Subaru's hurt, he is still fixated on the other man. Subaru still loves Seishirou.
In the next volume, Subaru arrives at the Sunshine 60 building to save Kamui and meets Fuuma. (Ironically enough, the Sunshine 60 is also where Seishirou and Subaru had a date in Call.A of Tokyo Babylon, and is destroyed by Fuuma.) As they fight, Subaru keeps thinking that Fuuma looks like Seishirou. Distracted for a moment by their similarity, Fuuma attacks Subaru and knocks him down. "Seishirou-san... why do you two look so much alike?" Grabbing his hair, Fuuma replies, "Because you want me to," and dramatically removes Subaru's right eye.
Kamui rushes to Subaru's side apologizing for not protecting him, for Subaru losing his eye, yet Subaru simply refutes him, insisting it is something he had Wished for. In X, Fuuma is the Wish-seer, knowing and sometimes fulfilling one's utmost desires. The fact that he wanted so strongly to lose his right eye, the same eye Seishirou had lost protecting him nine years earlier, and was poked out by someone who looked like Seishirou is just another proof that Subaru still has strong feelings for Seishirou. He had felt guilty over that for the longest time (which can be seen through his conversation with the man in TB: Pair), and if he truly
only
despised Seishirou, he wouldn't have brooded so long and so deeply that he felt the removal of his own eye was necessary. Fuuma also has the ability to look like whoever someone wants him to look like, usually someone important to his person, and the fact that Subaru saw him as Seishirou proves that Seishirou is still someone important to him.
Seishirou, interestingly enough, had watched the whole battle between Subaru and Fuuma, watched Subaru get his eye poked, yet did nothing about it. However, if you note the conversation between him and Fuuma later in that volume, Seishirou looks somewhat tense, almost even dangerous, compared to his usual self. Though he had not intervened, he was probably irritated that Fuuma had touched Subaru, but getting in the middle would've implied that he cared enough to get involved. Also, someone at
seixsub
pointed out that
Fuuma's eyes look a little softer in this exchange
, almost cheerful. Though it might be him mocking Seishirou, it his smile is creepily genuine, not sardonic. I hadn't noticed it before, but it's quite possible that, just as Subaru had seen Seishirou in Fuuma, Seishirou saw Subaru in Fuuma, meaning that Subaru is also be someone important to Seishirou.
As he leaves, he tells Seishirou that Subaru's true Wish is different from what he thinks it is (that Subaru wants to kill him), a foreshadowing of the tragedy that's yet to come.
The next and last time they meet is at the scene of the Rainbow Bridge. After he had completed a job, Seishirou confronts Subaru, seductively taking the latter's cigarette from him. They converse shortly, Seishirou remarking how kind Subaru still was, and Subaru denying it, claiming he was no longer the person he used to be—because of the other man. Their exchange is different this time, Seishirou no longer treating Subaru like a child, but more like someone real, someone worthy of considering and paying attention to. Subaru is no longer violently aggressive at the sight of Seishirou either.
There are many spaces in X. Spaces that allow for multiple answers to questions like why they're treating each other so differently now. Is it possible they met many times in between and was not shown? Yes. Is it possible they had not met, and their new experiences had changed their view of the other? Yes. But we may never find out.
They begin fighting, and Subaru raises his kekkai (spirit shield) to prevent the bridge collapsing. At one point, Seishirou creates a maboroshi, trapping Subaru in an illusion of sakura branches, but Subaru breaks free, claiming that he had already been caught by the sakura long ago. Seishirou tells Subaru about what Fuuma told him about his free, and tugs off the bandage around Subaru's right eye that had been unraveling. He asks Subaru if his Wish really wasn't to avenge his sister, and Subaru replies, "No, it's not."
There is an explosion, and Subaru's kekkai begins to disintegrate.
As the smoke from the fades, the scene becomes clear with Subaru with his hand through Seishirou's chest. Subaru pulls his hand out, Seishirou falling to the floor, Subaru catching him. Seishirou begins to tell Subaru the story behind the spell Hokuto had cast upon her death.
In order to protect Subaru's life, Hokuto cast a spell so if Seishirou tried to kill Subaru the same way he had killed her, the spell would backfire and Subaru would pierce a hole in Seishirou's heart instead. Despite knowing this, he chose to use this spell, for Subaru to be the one to kill him.
Shocked, Subaru explains to Seishirou how he tried to hate Seishirou, to erase him from his heart, yet could not do it. Thus, he had wanted only for the other man to kill him, to have enough importance to Seishirou that he would at least make the effort to take Subaru's life, even if it was forgotten amongst all the other lives he had taken. Subaru no longer cared if he meant nothing to Seishirou because, if he had killed Subaru, then at least it would've been
him
.
Seishirou then remarked how kind Subaru still was, and his last words were "Subaru-kun... I... &nbsp ...you." His dying words are left for Subaru's ears only.
The next scene is one of the most heartbreaking in the whole series. Subaru begins to cry—who had not cried since his sister's death, not for anyone else, not even when his own eye was removed... crying as he desperately clings onto Seishirou's dead body, claiming the man never said the words he expects to hear. The Rainbow Bridge begins to fall.
Later, we see Kamui with Subaru, having saved him before the bridge completely collapsed and engulfed them both. Kamui asks why Subaru doesn't take off his coat even though it is covered in blood, but knows it is because it's
his
blood as Subaru raises his hand in a way to embrace it. It is all he has left.
Though emotionally empty, Subaru tells Kamui the story of why he wanted Seishirou to kill him. Kamui asks what he should do if his Wish makes someone else sad, and Subaru tells him that there is no wish that will make everyone happy.
Kamui looks at Subaru sadly as he exits the room, knowing it will probably be the last time he sees Subaru again, and after the door shuts, Subaru looks at the fading markings on his hands and kisses the pentacles before leaving through the window.
The character profile is of Seishirou and his inheritance of the title of Sakurazukamori. As his mother's is dying, he asks her who will kill him, and she replies the person he will love the most. It is, perhaps, the most fitting place to place an explanation of his actions. In the end, Seishirou did indeed love Subaru.
Is Seishirou/Subaru canon? I have to give a tentative yes, though it is still something widely disputed by the fandom. There are no kisses, no happily-ever-after's, no fairy tale romances. But there are two confessions of love, though both tragically misplaced. The only thing missing is everything in between.
We meet Subaru one last time in volume 17 at the Sakurazukamori grounds where Seishirou had killed his mother. Fuuma enters, holding a flask with his Seishirou's eye inside, telling Subaru how much Seishirou hated that Subaru was marred by anyone other than himself. He offers it to Subaru, to replace his right eye, but explains that if Subaru accepts, he will inherit Seishirou's position. Subaru hesitantly takes the flask, embracing it gently, still deeply feeling for the man that had taken everything from him.
The next time we see him, he is no longer Sumeragi Subaru, but the Sakurazukamori.
And that is the end to the tragic tale. Still, there are many questions left unanswered. Did Seishirou love Subaru at the end of Tokyo Babylon? If not, then when did he fall in love with the other man? Will Subaru continue loving Seishirou, despite everything he had done? Or will he finally move on? And what had Seishirou said to Subaru before his death to affect him so deeply? Most of them, likely, will be left unanswered.
a n o t h e r &nbsp f a i r y &nbsp t a l e
tsubasa reservoir chronicle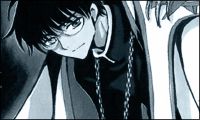 Another life, another chance, another story. This is the world of Tsubasa (or perhaps worlds?) that was set before Syaoran and Sakura on their journey to restore the latter's memory. Though they are the same characters from CardCaptor Sakura, they are not the exactly same people—their experiences and personalities make them extremely different from their other selves. In a series where your significant other in one world might be just a face on the street in another, the only way to describe a bond that goes beyond that is "meant to be." (Or at least are Clamp's OTP.)
In volume 7, we meet Seishirou, the mysterious young priest who had taught Syaoran how to fight when he visited Clow Country years earlier. He is blind in one eye, the price he paid to Yuuko to gain the ability to travel through worlds, and has of one of Sakura's feathers. Seishirou is powerful, capable of completely overturning a whole world, and he uses it to fulfill his one and only purpose: to find for a certain pair of vampire twins. Or more specifically, a vampire named Subaru.
While his appearance is brief by any means, mere pages out of one volume, it is his purpose that captures the attention of many Sei/Sub fans. For one, it shows that Clamp considers Seishirou and Subaru's relationship as something important enough that it would carry over to Tsubasa. However, it is not just that they know each other in another form because the simple fact that they had met again is enough proof of the importance of their bond to Clamp, but that Seishirou is chasing him throughout
all
the worlds.
**special warnings for Tsubasa 108-110**
In the recent chapters of Tsubasa, Syaoran & co. land in an apocalyptic setting similar to how X is set up, but even more stark, more desolate. Almost as soon as they land, they are attacked by a group dressed in hooded cloaks with crossbows. Their leader is called Kamui.
Moments later, another group arrives on motor bikes, and Syaoran and his friends find themselves caught between the tension. Just before fighting breaks out, the followers of both groups are revealed; they are none other than the Seven Seals and Seven Angels. However, missing from the groups are none other the two characters we are concerned with: Seishirou and Subaru. So why then would I reference these chapters? Because
chibiyuuto
put out the
interesting theory
that perhaps the Seishirou Syaoran had known was of that world. After all, the clothing style matches. And, since there is a missing Seishirou, the missing Subaru might make just as much sense. Use your imagination a little.
And if, perhaps, that theory is true, Clamp might let us in on the Seishirou-Subaru situation in Tsubasa a bit more. Quite a reason to follow Tsubasa, yes? Clamp's getting good at distracting us.
**end recent Tsubasa spoilers**
In a way, Tsubasa seems to be Clamp's way of giving Seishirou and Subaru a chance to start anew, to make amends for the mistakes that they made in a different world, to live another story that's no longer a tragedy. Perhaps what draws S/S fans to Tsubasa is the concept that this time around, as elusive as it seems, they might find their happily ever after.
t h e &nbsp s p a c e s &nbsp i n &nbsp b e t w e e n
reasoning behind the madness
When I sat down to write this portion, I had to pause for a moment and think, "Why
do
I ship this couple? Why does
anyone
ship this couple?" While there is no lack of subtext or even canon support, S/S is not a ship that would even be considered remotely healthy to like under normal circumstances. But because it's so widely accepted, it's become nearly second nature, and the logic behind it gets lost in the mess. Thus, this is my attempt to explain.
Seishirou/Subaru, most would consider, is a classic shounen-ai couple. A few years ago, when the internet yaoi fandom was relatively small, there were a few popular series with ships that every die-hard fan knew at least one of. And S/S was one of them. They are considered a classic, perhaps, because they come from a dying fandom yet they persevere, and while few people actively ship them, they are still adored by many. A classic is something that has stood the test of time, and Seishirou/Subaru has yet to be forgotten.
Perhaps it is because there is a certain fated feeling to this ship. The fact that Subaru happened to stumble upon Seishirou that day that made the Bet happen might be purely coincidental, but the fact they met again in Tokyo Babylon, and are even on opposite sides in the battle of the apocalypse, definitely proves that they're something that was destined to happen. Plus, their being together in Tsubasa as well can only mean that they are thrown together by fate.
Though the term "opposites attract" applies to them, I don't think it's quite an accurate description either. Water and oil are opposites (water is a polar molecule, oil is non-polar), yet they don't mix with each other. North and south attract, however, not so much because they're opposites, but because they're
compliments
. Seishirou and Subaru compliment each other; Subaru is light as Seishirou is dark, Subaru deeply-feeling whereas Seishirou is emotionless, meek when the other is assertive. They balance each other in a unique that can easily be tipped, but is not. They are described, I believe, as being two sides of a coin, complimentary, but it is also something that works against them. The two sides of a coin can never touch, never be together. That is their tragedy.
Their love-hate relationship is also very intriguing. There's no reason for Subaru to love Seishirou, considering he is the Sakurazukamori and had killed Subaru's sister, yet he does. There's no way Seishirou could love Subaru, him being emotionless, but he very well still does. It is something that defies logic, yet still makes sense. A lot of people mistake this relationship for a rivalry, which pains me. Dictionary.com defines
rivalry
as:
The act of competing or emulating
which is not an accurate portrayal of their relationship. Subaru loves Seishirou and hates himself for it. There is no competition, and Subaru doesn't care to be his equal, only someone noticeable enough to be even considered a threat worth killing.
Seishirou and Subaru have a certain Romeo-and-Juliet-esque dynamic as well. While I'm not the biggest Shakespeare fan, it's something that works, not just for them, but for other ships as well. The Sumeragi and Sakurazuka are opposing clans, supposedly having been at war with each other for centuries because of their opposing usage of onmyoudo. Even Hokuto describes this as being extremely romantic, like a fairy tale. However, it is because of such a dynamic that they aren't ever allowed to be together, ever clashing, a story that can only end in tragedy. Yet it is that tragedy that makes them so appealing, just as the story of Romeo and Juliet is so loved, because of how it touches the depth of what love truly is.
Still, the harder you think about it, the less sense it will make they're so
horrible
for each other that they probably
shouldn't
be together. But people still like them. Why? Because they just
are
, and Clamp wants them to be, and there's really no need for any other reason. Their love is a love that represents all sides of what it should be—something beautiful and something hideous, something fragile and something harsh, something gentle and something painful, something that is just what love is.
s o m e o n e &nbsp i &nbsp o n c e &nbsp l o v e d
fandom guide
As depressing as it seems, I will be the first to tell you that the X/TB fandom is a bit on the side of dead. Dead dead dead dead
dead
. That, however, doesn't mean there aren't a handful of brilliant authors, fics, sites, and so on from its golden days. And Tsubasa fares slightly better with an occasional alter!Sei/Sub fic here and there. Therefore, I'll try my hardest to dig up the
crème de la crème
for you.
i ' m &nbsp b u r n i n g &nbsp m y &nbsp b r i d g e s
but you still find a way to me
The title of this manifesto provides a very grave image, one that is somber and dark. However, it does truly capture the twisted love story between Seishirou and Subaru. I'd chose bridge specifically because it acts as such a powerful symbol for their relationship. It is also the only thing that ultimately both seperates and joins the two lovers.
Bridges generally symbolize a connection, an understanding, yet it is literally the last thing that stands between the two lovers. Until the Rainbow Bridge came crashing to the ground, there was no chance for the two be able to finally reach each other.
More than anything else, there is a tremendous sense of irony to their situation; had Seishirou not died there, he would've never been able to communicate his true feelings to Subaru. However, because he does die, they are not truly able to experience love together. It is a simple and heartbreaking paradox. More than anything else, this is perhaps their tragedy.